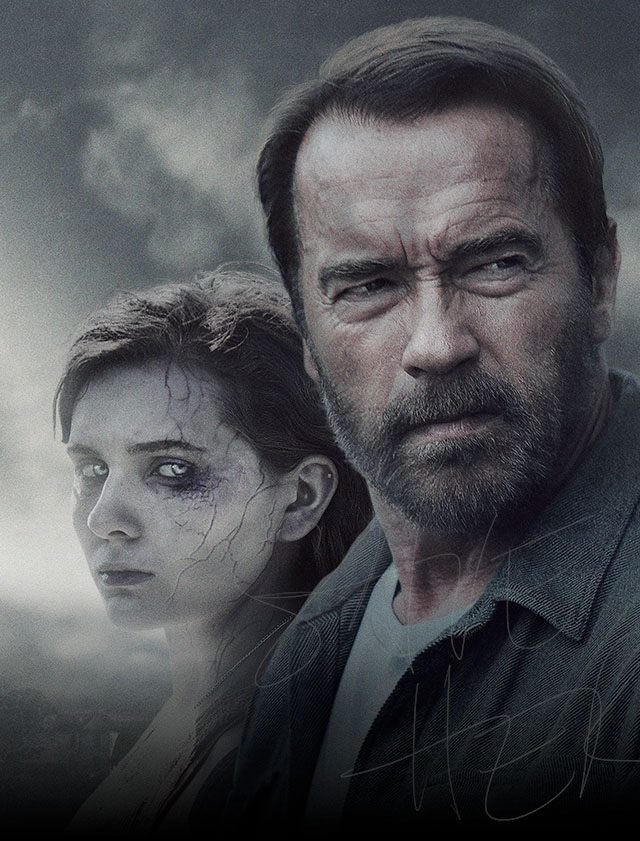 Maggie
Arnold Schwarzenegger, Abigail Breslin
In theaters and On Demand May 8

By the time a necrotic viral pandemic spread cross-country to small town America and infected the film's titular character, 16-year-old MAGGIE (ABIGAIL BRESLIN), authorities had established a protocol for patients infected with the deadly virus: they are removed from society and taken to special isolation wards to complete the agonizing and dangerous transformation into one of the walking dead. The authorities do not speak about what happens after that.
Wade Vogel (ARNOLD SCHWARZENEGGER) is not ready to give up his daughter. After weeks of searching for Maggie when she runs away following her diagnosis, Wade brings his daughter back to her home and family – stepmother, Caroline (JOELY RICHARDSON), and her two children--for whatever time may be left as the teenager begins an excruciatingly painful metamorphosis. Having lost Maggie's mother years earlier, Wade is determined to hold on to his precious daughter as long as he can, refusing to surrender her to the local police who show up with orders to take her. As the disease progresses, Caroline decides to take their two younger children and move out, leaving Wade alone with Maggie to watch helplessly as she suffers.

ARNOLD SCHWARZENEGGER
Arnold Schwarzenegger is one of the most recognized individuals on the planet, a world-famous athlete, actor and politician. Born in Thal, Austria in 1947, Schwarzenegger emerged from the world of competitive bodybuilding, becoming the youngest person ever to win the Mr. Universe title at age 20. By generating a new international audience for bodybuilding, Schwarzenegger turned himself into a sports icon, winning five Mr. Universe titles and seven Mr. Olympia titles before retiring to dedicate himself to acting.
With his sights set on Hollywood, he emigrated to America in 1968, and worked under the pseudonym Arnold Strong in his first feature, HERCULES IN NEW YORK, quickly made a name for himself in Hollywood. In 1977, the Hollywood Foreign Press Association recognized him with a Golden Globe® for New Male Star of the Year for his role in STAY HUNGRY opposite Sally Field. His big break came in 1982 when the sword and sorcery epic, CONAN THE BARBARIAN, hit box office gold. In 1984, Schwarzenegger blew up the screen and catapulted himself into cinema history as the title character in James Cameron's sci-fi thriller, TERMINATOR. He is the only actor to be in both categories of the American Film Institute's Hundred Years of Heroes and Villains for roles he played in the film. To date, his films have grossed over $3 billion worldwide.
In an effort to give back to the country that allowed him to accomplish so much, Schwarzenegger ran for public office and was elected California's 38th Governor. As governor, Schwarzenegger put California at the forefront of the nation in addressing climate change, pushing for the development of renewable energies, rebuilding critical infrastructure, investing in stem cell research, and putting in place health care and political reforms.
Since leaving office in 2011, he has continued to promote state and local clean energy efforts by founding the non-profit R20: Regions of Climate Action. Just last year, he established the USC Schwarzenegger Institute for State and Global Policy, devoted to seeking bipartisan solutions to environmental, economic, and other public policy issues.
Most recently Schwarzenegger has combined his love of global issues and entertainment, to serve as executive producer and correspondent on Showtime's climate change documentary series, YEARS OF LIVING DANGEROUSLY, which debuted in April 2014. In addition to being a legend on the silver screen, Schwarzenegger has also captivated the digital world with a string of self-produced viral videos, including "Arnold Works At Gold's Gym," a fundraiser for After-School All-Stars, which has garnered nearly 18 million views on YouTube and 1 million dollars in charitable donations for the organization. Schwarzenegger is also the top draw on Reddit's Ask Me Anything and boasts more than 3 million Twitter followers.
Beyond his social media domination, Schwarzenegger fans have much to look forward to in 2015 with the legendary action hero reprising some of his most beloved roles for TERMINATOR: GENESIS; TRIPLETS, the sequel to TWINS; and, THE LEGEND OF CONAN.
Abigail Breslin
Breslin's portrayal of the film's title role, MAGGIE, marks her second venture into walking dead territory, following ZOMBIELAND, the 2009 feature in which Breslin teamed with a rag tag group of survivors to fend off zombies in a post-apocalyptic world. The award-winning actress was last seen in the Weinstein Company's award-winning film AUGUST: OSAGE COUNTY, as well as the recent films, ENDERS GAME, THE CALL, PERFECT SISTERS, and NEW YEAR'S EVE. Her latest film FINAL GIRL, directed by Tyler Shields with Wes Bently and Alexander Ludwig, is set for release in 2015.
Breslin made her feature film debut as the leading lady to Mel Gibson – at the age of five – in M. Night Shyamalan's 2002 blockbuster film SIGNS. Four years later, for her performance as the pageant-obsessed Olive in the 2006 Sundance Festival Award winner LITTLE MISS SUNSHINE, Breslin was nominated for Academy Award®, SAG and BAFTA "Best Supporting Actress" honors, making her the fifth youngest actress ever nominated for an Oscar. She also received a "Best Actress Award" from the Tokyo International Film Festival and was honored as ShoWest's "Female Star of Tomorrow" in 2008.
Breslin's other film credits include HAUNTER, RANGO, JANIE JONES, MY SISTER'S KEEPER, RAISING HELEN, THE ULTIMATE GIFT, THE SANTA CLAUS 3, NO RESERVATIONS, DEFINITELY MAYBE, NIM'S ISLAND, and KIT KITTREDGE: AN AMERICAN GIRL. On television, Breslin has had guest roles on LAW AND ORDER: SPECIAL VICTIMS UNIT, NAVY N.C.I.S., WHAT I LIKE ABOUT YOU and GREY'S ANATOMY.
JOELY RICHARDSON
Joely Richardson is an award-wining theatre, film and television actress. She has appeared in more than 50 films and television programs, becoming a familiar face to many for roles in blockbusters like THE PATRIOT and her Golden Globe-nominated performance as Julia McNamara on Showtime's acclaimed, long-running series, "Nip/Tuck".
Most recently, Richardson completed production of the film PAPA, in which she plays Mary Hemingway, and has two other films -- THE MESSENGER and FALLEN -- pending release in 2015. Other recent films include ENDLESS LOVE, VAMPIRE ACADEMY, THE DEVIL'S VIOLONIST, THANKS FOR SHARING, RED LIGHTS, ANONYMOUS (opposite her mother, Vanessa) and the blockbuster thriller THE GIRL WITH THE DRAGON TATOO. She also appeared in the television series "The Tudors" and played Wallis Simpson in the television movie "Wallis & Edward".
Richardson was also recently nominated for the Outer Critics Circle's "Outstanding Actress In A Play" Award for her performance in Austin Pendleton's "Ivanov", opposite Ethan Hawke.

HENRY HOBSON
Henry Hobson is an artist, director and graphic designer who has distinguished himself as one of the go-to directors for innovative title, end and credit sequences for such films as SNOW WHITE & THE HUNTSMAN, ROBIN HOOD, SHERLOCK HOLMES, THE HELP, RANGO and TREE OF LIFE; video games THE LAST OF US and KILLZONE as well as AMC's acclaimed top-rated zombie series, "The Walking Dead". Adding further talents, Hobson has also creative directed the screen and stage looks for the Academy Awards for the past 6 years.
In addition to his design work, Hobson employs his unique visual style in his directing efforts with award winning commercial campaigns and short films for Playstation, HBO®, the NFL®, the Academy Awards®, Sony®, 2K Games, Nike®  and The BBC. 
Born near Stonehenge, England, Hobson earned his masters in graphic design, training at the exclusive Royal College of Art in London.  He began his career working at top design firms in England and the United States.